Episodes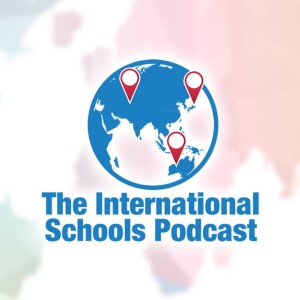 Saturday Oct 01, 2022
Saturday Oct 01, 2022
Join us for a conversation with Doline, who has worked in international schools in Europe, and worked extensively facilitating and leading workshops amplifying the importance of Diversity Equity Inclusion and Justice. (DEIJ). How as a board member of the International Educator magazine and blog she is supporting the editorial content to address these issues.  We will explore her facilitation of DEIJ awareness and the different strategies schools and school leaders can engage with. Looking at how to  support students, educators and parents with this important disposition and set of values in the curriculum and school setting.
About Doline Ndorimana 
Born and raised in Burundi, Doline Ndorimana is an international educator,  DEIJ workshop leader and a university lecturer with15 years of experience in International schools. She is also a language Acquisition MYP consultant, and is part of TIE Editorial committee as well as being a member of AIELOC and ISS Diversity Collaborative. Doline is trained in international accreditation as a team evaluator and has been involved in accreditation visits. She is a great advocate of students' voices and works at amplifying them by helping to create a culture of inclusion and vulnerability in schools. She now lives in Melbourne with her family.
Doline Ndorimana on Social Media
Twitter: https://twiter.com/DolineNdorimana
Resources:
https://www.identitycentered.com/what-is-icl
https://www.diverseeducators.co.uk/
Books:
Unconscious Biases in Schools : A developmental Approach to explore Race and Racism by Tracy A. Benson & Sarah A. Fiarman
Crucial Conversations Tools for Talking when Stakes are High by Kerry Patterson
John Mikton on Social Media
LinkedIn: https://www.linkedin.com/in/jmikton/
Twitter: https://twitter.com/jmikton
Web: beyonddigital.org
Dan Taylor on social media:
LinkedIn: https://www.linkedin.com/in/dantcz/
Twitter: https://twitter.com/DanTaylorAE
Web: www.appsevents.com
Listen on: iTunes / Podbean / Stitcher / Spotify / YouTube
Would you like to have a free 1 month trial of the new Google Workspace Plus (formerly G Suite Enterprise for Education)? Just fill out this form and we'll get you set up bit.ly/GSEFE-Trial